You are here
News & Events
Top Stories
January 18th, 2017
Please join us in congratulating our ten new undergraduate mathematics major alumni. Pictured with Ross Chiquet are (...
Read More ➝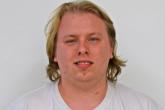 August 30th, 2016
Thomas Credeur, one of our mathematics PhD students, participated in the Second Chicago Summer School in Geometry and...
Read More ➝
May 25th, 2016
Tingting Tang's research was the subject of an article on the Gulf of Mexico Research Initiative (GoMRI) website. When...
Read More ➝
View All News
Upcoming Events