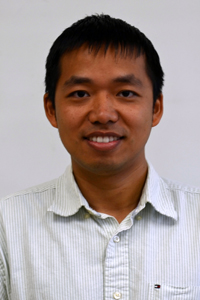 Assistant Professor
Applied Mathematics

419 Maxim Doucet Hall
337-482-5281
xswang@louisiana.edu

Xiang-Sheng Wang's webpage
Ph.D. 2009 City University of Hong Kong (jointly awarded by University of Science and Technology of China)
B.S. 2004 University of Science and Technology of China
I joined the Department of Mathematics at the University of Louisiana at Lafayette in August 2016. Before that, I had been working at City University of Hong Kong, Memorial University of Newfoundland, Southeast Missouri State University, and York University. My research interests are mainly in the interdisciplinary areas of applied analysis, computational mathematics, and mathematical biology. I am actively seeking for collaborations with various researchers from different backgrounds. Especially, I enjoy advising graduate and undergraduate students on their research projects. I like to communicate mathematics in terms of teaching, publication, presentation and discussion. My other hobbies include swimming, hiking, reading, playing chess, piano and badminton.
Selected research publications:
Asymptotics of Racah polynomials with fixed parameters (with R. Wong), Proceedings of the American Mathematical Society, 146 (2018), 1083-1096.
Global dynamics of a coupled epidemic model (with H. Shu), Discrete and Continuous Dynamical Systems - Series B, 22 (2017), 1575-1585.
Traveling wave phenomena in a Kermack-McKendrick SIR model (with H. Wang), Journal of Dynamics and Differential Equations, 28 (2016), 143-166.
Asymptotics of Racah polynomials with varying parameters (with R. Wong), Journal of Mathematical Analysis and Applications, 436 (2016), 1149-1164.
Pulsating waves of a partially degenerate reaction-diffusion system in a periodic habitat (with X.-Q. Zhao), Journal of Differential Equations, 259 (2015), 7238-7259.
Destabilizing a stable crisis: Employment persistence and government intervention in macroeconomics (with B. Costa Lima, M. R. Grasselli, and J. Wu), Structural Change and Economic Dynamics, 30 (2014), 30-51.
Plancherel-Rotach asymptotic expansion for some polynomials from indeterminate moment problems (with D. Dai and M. E. H. Ismail), Constructive Approximation, 40 (2014), 61-104.
Saddlepoint approximation of nonlinear moments (with X. Shi and N. Reid), Statistica Sinica, 24 (2014), 1597-1611.
Plancherel-Rotach asymptotics of second-order difference equations with linear coefficients, Journal of Approximation Theory, 188 (2014), 1-18.
Singular perturbation solutions of steady-state Poisson-Nernst-Planck systems (with D. He, J. J. Wylie and H. Huang), Physical Review E, 89 (2014), 022722.