You are here
News & Events
Top Stories
March 15th, 2021
Come meet Dr. George Turcu of our mathematics department. You will find out more about what makes a mathematician...
Read More ➝
December 3rd, 2020
Nicholas Henderson is the Fall 2020 Outstanding Graduate for the Ray P. Authement College of Sciences. He will earn...
Read More ➝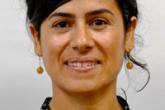 July 30th, 2020
Professor Hayriye Gulbudak of our Department of Mathematics received a three year NSF grant with total funding of $240...
Read More ➝
View All News
Upcoming Events