You are here
News & Events
Top Stories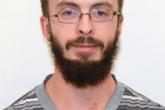 July 5th, 2021
Mathematics graduate student Joshua Caleb Macdonald received special recognition for his contributed presentation,...
Read More ➝
June 25th, 2021
Many of our undergraduate mathematics majors are conducting academic research. A few recent examples are described...
Read More ➝
June 22nd, 2021
Dr. Krishnamoorthy was honored by the graduate school as one of five Outstanding Doctoral Mentors for 2019-2020. Our...
Read More ➝
View All News
Upcoming Events